Berlina Register Newsletter No. 47 (September 2020)
Notes and Comment
I hope folks are doing well.  Sedan action continues apace. A friend with a Berlina bought a 1300 Super in Sacramento in July and we caravanned, a Berlina and a Super, up to get it, then had three sedans on the way back down the Sacramento Delta. Very nice day out, even if it was 96*. All three sedans did fine in the heat; their owners, not so much.
<![if !vml]>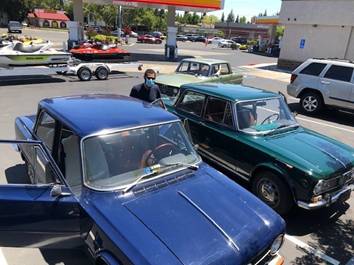 <![endif]>
I'm storing friend Aaron's green/tan/black plate Super til he gets home from Italy, so my wife and I had a fun day picking it up in my twin Super and caravanning home. Here are the twins.
<![if !vml]>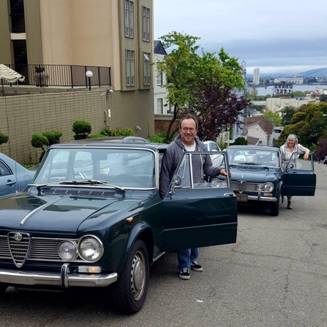 <![endif]>
Not one but two Lancia Fulvia GTs came by for work recently, which was fun.  Lancia quality and engineering exceeds Alfa's but that doesn't mean I'd rather have one. They're very well built and engineered to a fiddly degree; the proof in the eating of the pudding is not always better though. These are FWD, four-speeds, with a 1200 dual-carb engine. They are fun and lively, but pretty much any Giulia sedan will say to them "mangia la mia polvere." And being Lancias, they have special fasteners like castellated ring nuts (both left and right thread) and take unobtainable tools to do certain things. Luckily I didn't get that far in. My Super got a big scratch from a vandal, leaping deer, falling meteor, something, so after I got the insurance money too it back to the guys who painted it last year for a fix. While they were at it I asked them to fix the rust spot they "fixed" 12 months ago.  We'll see how it holds up.
There's a fox in the henhouse; I bought a 1972 BMW 2002tii. My wife and I have owned many BMWs and I had a regular 2002 10 years ago. Always wanted a tii for the Kugelfischer injection; the nastiest, cheapest one on earth came along so I snapped it up.  Ceylon metallic, lots of patina, drove it home with an extra engine in the trunk. Had one low cylinder so I rebuilt the original block, installed, now runs like stink. Here's the piston that came out, and the tii taking its place in the garage. I like it. Is it better than an Alfa? No. But a very good engine and great roadholding. Good front brakes too (four-piston ATEs).
<![if !vml]>
<![endif]><![if !vml]>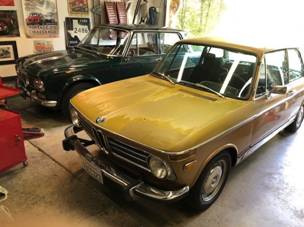 <![endif]>
The keeper of the Berlina Register, North American Giulia Sedan Register, and Giulietta Sedan Register is Andrew Watry, email watry@prodigy.net.  Send corrections to your information or any other Giulia- and Berlina-related facts, rumors, tips, or needs.  Always seeking articles for the newsletter. 
Seeing Your Glass Clearly
Windshields
Herewith a miscellany of items on glass and windshields.  First, some clarification.  All Giulia sedans and all Berlinas have the same body opening for the windshield. There are two sizes of glass, one for the original style, and one due to US safety regs that came into effect in 1971. Here's the breakdown for Giulias and Berlinas:
Small glass: used in all Giulias, all non-US Berlinas, and 1969 US Berlinas. Uses a normal rubber gasket with T-cross-section shiny trim (two pieces plus corners) that presses into a slot in the gasket.

 

This is the glass available new, interchange number FW00178.
Large glass: used in 1971-1974 US Berlinas. No gasket, glass is glued directly to the body opening and a curved, wider C-shaped trim (four pieces plus corners) is glued on top.

 

 

Near as I can tell one makes this glass. You'd have to find one lying around or NOS.
The difference is not much, like a half-inch. My small one is 21 3/16" vertically at the center. That said, any glass will fit any car. If you have a 71-74 US Berlina, you can use the small glass if you have the gasket and the proper shiny trim. Drops right in. Conversely, you can fit large glass to any car (but why?) if you have the glue kit and the wider trim.
Tinting
The few 2000 Berlinas with factory AC have tinted windshields. I would guess this is true for both US (glued) and non-US (gasketed) types, but I have seen only US AC cars.  It's light green, not that noticeable except compared to clear.
Rear glass
Berlina and Giulia rear glass are not the same, and the gaskets are not the same.  And no, GTV glass and trim is not the same.
Door glass
Giulia and Berlina front doors use the same glass, though the manufacturer's etching differs if you're building a show car.  Vent window, gaskets, gearboxes are the same and interchange. Berlina rear doors are three inches longer than Giulia, as is the glass.
Installing gasketed glass, front or rear
Do a search for the "crossed rope" method. The factory body manuals show it, and most any period Fiat shop manual will have it. It's common to all gasketed glass. Same instructions front and rear.
<![if !supportLists]>· <![endif]>Get a thin slippery rope, ¼" diameter or less. Long enough to go all the way round and cross; a foot longer than the perimeter.
<![if !supportLists]>· <![endif]>Get a tool like a door-panel tool or a scribe with a hook on the end, not sharp. A large dental tool or bent screwdriver will work.
<![if !supportLists]>· <![endif]>Clean everything, put the seal on the glass, located happily. Slot for trim goes toward the outside of the car.
<![if !supportLists]>· <![endif]>Put the shiny trim in the seal. Work carefully, get it fully seated all the way round. Don't bend or stress it.
<![if !supportLists]>· <![endif]>Once that's in, put Vaseline all the way round in the gasket slot that fits onto the body. Prep the car as best you can to keep Vaseline from getting on stuff. Keep rags handy.
<![if !supportLists]>· <![endif]>One person inside, one outside. Start at the top, push the glass up onto the body lip at the top edge. Person inside leads, fits the rubber lip onto to body seam. Do all the way across the top, to the corners. Person outside will push and manipulate glass to center and hold in place. Spread hands flat, distribute pressure over a wide area. Don't hit!
<![if !supportLists]>· <![endif]>Once the top is in place OK (outside person will continue with pressure to keep it from slipping), inside person start with rope, pull it out of the groove, feeding the gasket lip onto the body lip. Go one way then the other so glass lays in as you work downwards. Use the hook tool and your fingers to get the rubber gasket lip to catch onto the body lip. Keep working one side then the other, down equally. And keep pulling the rope out too. All with the aim to get the rubber lip to grab the body edge all the way 'round.
<![if !supportLists]>· <![endif]>When you get to the lower corners, it'll take firm pressure from the person outside. The whole front will sort of pop in once it's lined up well. It looks like it won't go but it will. Communicate well, inside person seeing where the gaps and poor fits are, telling the outside person where to push while inside person manipulates the rubber lip and the rope.
<![if !supportLists]>· <![endif]>If glass gets off center, back up a bit or the two of you spread your four hands and "palm" the glass in the direction it needs to go.
<![if !supportLists]>· <![endif]>Once in, clean off goo and make sure it's seated. Use rubber mallet and other soft means to get the trim fully in. Work as you go to keep the trim in place and as fully seated as it will go. Once the glass is in place the gasket's slot closes up and it is hard to get the trim in more. Corners of the trim may need a little work too, they won't fit exactly as before in the new rubber. If needed, squeeze in some dum-dum sealer if it leaks water.
That's it. If it goes well, maybe 45 minutes each. If it's scary I don't blame you. Generally you should use a new rubber seal.
Putting a 1750 in a Giulia Sedan
Giulia sedans came new only with 1300 and 1600 engines. For more power, an easy upgrade on an early car with mechanical clutch actuation is to drop in a 1750. It is a bolt-in operation. Here is the process and some typical issues.
Remove your old engine.  To retain the mechanical clutch actuation on cars through 1968, leave your transmission as is.  On the 1750 engine, remove its flywheel and install the original 1300 or 1600 flywheel (same eight mounting bolts).  It should be factory-balanced but if it has been messed with it may need balancing.  Orient the TDC mark to the crank as on the old engine.  At the same time move the thick metal spacer at the back of the block to the 1750 (leave off the 1750's thin steel shim).  Swap the long 1750 transmission mounting studs for the short ones off the 1300/1600.  Install the spring-type 1300/1600 clutch.  Install a new mechanical-type throw-out bearing.  Reinstall the engine in the car, which should bolt in just like the original. Use an 8-tooth starter, either two or three mounting bolts will work.
Carburetion on a Super version should need only larger throats and jets to Alfa specs (see Centerline's tech website for specs). Use your original airbox and filter setup.  On a TI, S, or 1300 Berlina, you probably need the Euro "log" type air cleaner for clearance.  Issues include the fuse box getting in the way, no mount on the exhaust side inner fender for the air filter can, no "dip" in cam cover, and interference from the mounting stud for the jack on the intake side.  Use an airbox support, which a single-carburetor car would lack, to the intake side motor mount.  Alfa airboxes are better than aftermarket ones.
On a Giulia with a hydraulic clutch, either floor or hanging pedals, drop in a 1750 or 2000 with its hydraulic clutch in original form, including the flywheel and clutch.  No conversion needed.  Reuse the original shim at the back of the block. A 1750 uses an 8-tooth starter. A 2000 uses a 9-tooth starter, of which there are two varieties depending on the flywheel (130 or 131-tooth).
Reuse the cast iron headers (or use tube headers and ignore the rest of this discussion).  For a floor pedal car, you need a 1969 Berlina downpipe for the vertical height of the engine and the right bend around the pedal box.  For a hanging pedal car, use a 1971 or later 1750 or 2000 downpipe.
There is enough vertical space in the engine compartment for the taller engine.  A cross-over air filter may foul the hood prop a bit, but it's flexible.
Market Report
1974 Giulia 1300 Super.  Faggio car with tan skai interior. Listed by a Dutch dealer, a solid-looking original-spec car other than Eibach springs, shocks, replica GTA wheels. Retained 1300 engine, stock interior. Alleged to have 42,000 miles, so it might be as original as claimed. Some areas repainted. The undersides were not rusty but tatty by Dutch standards; nonetheless better than most cars in the US. $20,750 BringaTrailer, Netherlands.  Nice to see such an original car retaining its 1300. For a Dutch car this was on the poor end of the spectrum, which still makes it better than most US cars. Rich faggio color looked great, interior appeared to be original, though mislabeled as leather on BaT. Price seems relatively a bargain, though low prices on cars in Europe on BaT are the norm; most bidders are in the US.  This is the first COVID-era sale I've seen, still reading the tea leaves, looking for a trend. 4/20
1971 Giulia 1300 Super.  Verde Ischia (like verde pino) with black interior.  Had the look of a hotrod with no bumpers, lowered, Panasport wheels, stinger exhaust. Uprated with a 1600 and Dell'Orto carbs. Car had sat for some years in Italy; suspension had been rebuilt, new paint, all issues dealt with. Looked like a solid car. Undersides painted with undercoat and were hard to judge, though what was visible looked OK. Seats said to be vinyl but looked like leather to me. Nice interior. $25,000 BringaTrailer, Netherlands.  About as nice a user-friendly Giulia as you could hope for. A late 1300 Super with a 1600 in it is virtually indistinguishable from a 1600 Super other than badging.  Price right on the money, perhaps a bit cheap for the amount of work done, but again, Euro-location can put US bidders off. 5/20
1960 Giulietta Berlina.  Dawn grey car with grey cloth interior. Utterly stock transition-era 101 sedan with single carb 1300, column shift, bench seats. Restored in Italy, sold at Artcurial in Paris a few years ago to an American with too many Alfas.  Looked essentially perfect all over, from the undersides to the stainless to the quality fabric in the headliner and seats. $35,000 BringaTrailer, Milwaukee. At first blush seems a lot of money for a bottom-of-the-line sedan, but these are quality cars and this was a good restoration. And how many are around? I have 75 on the Register in the whole world. I'd think it's nearly the best restored one around; one or two original cars might surpass it. These are not hotrods but can move down the road at their own good pace and respond to the same upgrades as Spiders and Sprints.  I'd say fair, even a bargain for the condition. Seller had a higher reserve, which he removed at the last second.  5/20
1964 Giulia 1300 Berlina.  A rarity, a 105.06 Giulia 1300 (not a TI) in its original configuration. This was the bottom-of-the-line model with a Giulietta TI engine and four-speed gearbox. Otherwise similar to a 1300 TI but with a simpler grille, hubcaps, few adornments.  White with grey interior, looked to have survived with no upgrades. Exterior repainted, interior a little dingy, but cared for as most Dutch Giulias are.  Rebuilt engine, new brakes, shocks, exhaust. $18,500 BringaTrailer, Netherlands. It's rare to find one of those not upgraded in some way, but owners value these variants more in Europe than in the US. Essentially a Giulietta TI in a Giulia body.  Charming simple car. Price is exactly where I'd expect. I don't know if it's a Euro buyer or a few thousand more will be spent to get it to the US. 5/20
1971 US 1750 Berlina. Verde muschio car with tan interior, sold new in Quebec, now in Georgia. Canadian cars were US-spec so it's got Spica, side marker lights, etc.  Basically sound car that is ratty all over but not a pile. Undersides show years of use in snowy environment but not seriously rusty.  Paint older with some chips and scratches. Interior remarkably original and good; some wear on carpets. Trim good other than missing windshield shiny trim. Panasport wheels, minor brake work recently, rest of mechanicals decent if not fully described. $13,500 BringaTrailer, Decatur GA.  An amazingly solid car considering it lived in Quebec. A little dingy but, honestly, a great driver for the money. A few things to bring up, but I say get in and drive it, fix it along the way.  The seller had lots of pics but little useful info, so maybe buyers lacked confidence. It was not yet US-registered which probably put the DOT/EPA/DMV scare in folks. Car seemed cheap by a few thousand.  5/20
1972 Giulia Super.  White car (with graphics) with grey interior.  Street-legal track car, built out of two shells. Registered as a 67 but has a 72 VIN.  2000 engine, lowered suspension, wide wheels, roll cage, GTV seats, loud exhaust, etc.  Extreme street car, mild track car in spite of hotrod look.  Built by various shops in LA, not used much. Sold by builder when he stopped racing. $20,500 BringaTrailer, Reno.  I used to see this car at the track; it would arrive but not run much. More of a lifestyle accessory than a race car. Looks mean and nasty, build quality is not that great. Seller didn't initially reveal the two-shells issue on BaT but was candid about it when folks asked why a 1967 car had a later VIN and hanging pedals. Could make a good track car with some sorting. Race cars typically are cheap; this price is high for the quality of work, though you couldn't duplicate if for the cost. 6/20
1975 Nuova Super 1300.  Dutch blue car with tan seats.  A Nuova made to resemble an earlier car, with early hood and 1300 TI grille, weird turn signals.  Basically sound car, some wear and a little rust, tatty seats.  Mechanically sound with a 1400 kit, drives well. Body has minor rust and old paint. Tatty interior but complete and most everything works.  $7500 AlfaBB, Sacramento.  This was advertised for months on the AlfaBB, no one would look at it. So I did in December and it was a great driver. Minor rust and a generally dingy appearance put folks off; in person it was better than indicated.  I talked a friend into buying it. Drove it back from Sacramento in 100* heat, no problem.  An extremely good deal. Drive as is or bring it up some and still not spend much. Showing up gets you halfway to winning. 6/20
1968 Giulia 1300 TI.  Pino verde car with light tan seats. 100% stock car sold new and still in Italy.  Repainted after rust repair, some new exterior trim. 1750 hubcaps, new tires. Stock mechanicals, condition not mentioned but looked OK. Interior very nice with big plastic steering wheel and unificato binnacle dash.  Price included shipping to NYC. $16,916 BringaTrailer, Rome.  Some pretty extensive body repair was documented, though pictures of the undersides were poor. If the bodywork holds up, which you won't know for some time, this was a pretty good deal since it included thousands in shipping costs. 6/20
1973 US 2000 Berlina. Red car with black interior, longtime Berlina-nut ownership and generally good care, though gone to seed a bit with time. Body good, not rusty, but paint showing its age. Lowered, aftermarket wheels, otherwise generally stock. $18,750 Arkansas, Hemmings.  Longtime owners often have trouble "seeing" their car how it really is; I've been guilty of this myself.  Generally a nice car, some sprucing up to do but quite presentable and it drove 1200 miles home with one issue, the alternator light came on. So that's not bad.  Price is fair, maybe a couple bucks high. 7/20
1972 2000 Berlina.  Pino verde car with tan interior. Non-US variant with carburetors, no side markers, etc.  Looked nice in ebay presentation, stock condition, interior had home fixes to the veneer and seats were baggy. Little info on mechanical condition but car seemed to be of a piece. $9700 ebay, Champlain NY.  Precious few sedans have sold on ebay recently, all the action is on BringaTrailer. This was not the best listing, lacking info on mechanical condition and poor underside pictures. Nonetheless, if the car was as good in the flesh as in the pictures, this seems like half price compared to what it would have brought on BaT.  So super deal for the buyer. 8/20.