Berlina Register Newsletter No. 46 (March 2020)
Notes and Comment
No intro; let's let others talk this time. The keeper of the Berlina Register, North American Giulia Sedan Register, and Giulietta Sedan Register is Andrew Watry, email watry@prodigy.net.  Send corrections to your information or any other Giulia- and Berlina-related facts, rumors, tips, or needs.  Always seeking articles for the newsletter.  The keeper of the international Giulia Sedan Register is Barry Edmunds in Australia, email Giulia105@optusnet.com.au
Twin-Spark Berlina
By Peter Inshaw
I found this Berlina on Craigslist near Santa Cruz. Unrestored but it had a TwinSpark engine conversion that I wanted for my 67 GTV. Figured rest of car was a throw-away (no one restores Berlinas) so no harm in looking and taking a test drive. Owner had died and a friend, who helped engineer the TS conversion, was helping sell it. He was the ex-crew chief to an Alfa racer and my mechanic knew him. He told me if Martin did the work it was solid, so off I went. Car was as pictured and it drove well, pulled pretty good, and Martin was definitely knowledgeable. I made an offer that he accepted, and we arranged to come back to drive it home.
Pit<![if !vml]>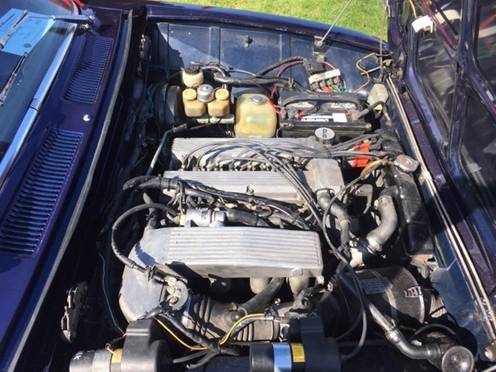 <![endif]>
Drive home was interesting. Engine was great but suspension was original and it showed. Got home safe into the garage. I finally got a chance to really go over it. I could not find any rust in the normal spots short of a bubble on the right front rocker and a hole in the passenger floor. Even those were minimal. Seats were shot, but everything worked and it was all there. I pictured that having the suspension done would transform the driving.  Redo the interior and paint and it would be a whole new car. Didn't take long and I was stripping it down, bagging n' tagging as I went. Don't think a week went by before it was at the body shop with a promise of a "panel a week" timeline. That was first of August and it was out of paint by mid-December.
Meanwhile I had the seats redone and started polishing the stainless. So many pieces of trim, nuts. But did a section at a time and put it back on the shelf. Encouraging to see the shiny pile grow. I had visions of smoothing out the bumpers, eliminating the bolts and replacing with studs but that didn't pan out, so went for a straighten and polish instead. Then sent car off for head liner and carpet, which came back with a finished trunk as a surprise by upholsterer.
<![if !vml]>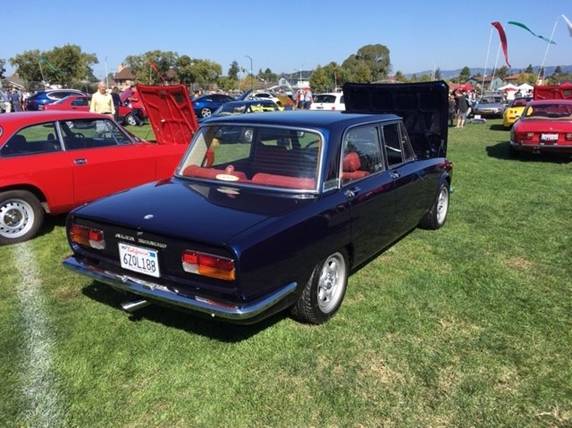 <![endif]>
Happiest day was redoing the suspension. I dug out the old springs I had from my GTV race car, bought new shocks, cleaned up the suspension, checked the bushings and went to town. I had found a set of Speedline 15" wheels on ebay that were already refinished, added some S Drive Yokohama's and bolted them up. New blade sway bar from APE and links from Classic Alfa finished it off. Amazing how it transformed the car, really felt like mine at that point.
Biggest challenge was the dash. I tried redoing it with plastic weld which worked great, but just couldn't get a recover that looked good. In the end I sent it off to Oregon and had it done right. Tom Sahines refaced my electric tach, taking the face off the original one and swapping out the 90's version.  I veneered the wood trim in mahogany, staining and varnishing them til I was happy. Think that whole process took almost five months but worth it in the end since you stare at it all time. Last piece I bought was a steering wheel from Canada, which was in amazing shape. Tom and Doug went thru the electrics, sorting and fixing everything behind the dash and got all the lights bright and working as they should, something I just don't have the skill for. That literally happened Saturday, by Sunday I as driving up to the ARA All-Italian Day in Alameda to show it off.
I have to say, for a throwaway car, I'm really enjoying it. Pulls amazing, handles great and is super comfortable to drive around. Plus it's old enough to start conversations, something I've missed. Really glad I saved it. 
The Twin Spark's biggest difference [from the stock 2000] is torque. It seems to pull noticeably lower in stock form and revs to 6,500 easily. Not quite V6-quick but better than a lightened flywheel Nord four-cylinder. Corner exiting can kick the tail out even with a rear sway bar, fun stuff.  I understand it's about 155 hp out of the box, not bad, Only mod I did was an Alfaholics stainless exhaust, which eliminates one of the three boxes and adds some grunt and a better note when pulling over 3,500; otherwise it runs just dandy off the line to 4,000 without drama. There's potential to add 50 hp on pump gas, but it's a $6-10k venture.
The list of upgrades is well known with several sources up to speed on it.   Stock EFI is nice, starts right up, idles easily, visually not exciting but there are systems out there to clean that up a couple thousand.
Fly-In Drive-Home Berlina
By Bill Alber
I've had the itch for an Alfa Berlina for some time, thanks to our Editor, lots of talk about Berlinas-Supers, etc. Eight years ago I had the good fortune to see an ad on CL in Seattle for a Super from a Boeing engineer. It was well sorted and the owner said, "I would drive it anywhere." I'm a trusting person (gullible) and figured that if a Boeing engineer said he would drive it anywhere it would get me home. This was before the problems with the 737 Max; so I bought a Southwest ticket, emptied my hobby account and went from Oakland to Seattle. True to Blair's word, I drove it home; a two-day trip with no problems.
Jump forward several years and I start looking for a Berlina, of course, no good reason, just looking for something else to tinker (spend money on) with. Andrew put me on to a Berlina in Idaho in the middle of nowhere. I looked at pictures, talked to the seller, and decided that it was too far, too much money, and an awful lot of dirt on the engine, etc. Seller said, "I think it can make the trip," somewhat less reassuring than the Super. But the idea stayed with me and the months went by without finding a better candidate. At my age (old) can I still Fly-In Drive-Home to Idaho in December?
Valor overcame discretion, I emptied my hobby account again and bought a ticket to Boise.
Rented a Prius at the airport, drove through some wild, snowed-in country with the temperature reading 28, made it to Hailey (near Sun Valley) and found the seller and looked at the Berlina, a grey/red 1971 US car. It was pretty straight with no rust but had had no love for a decade. So I gave my hobby account balance to him and hit the road south to Twin Falls. As soon as it was dark I could see the windshield was badly pitted and the oncoming headlights were really tough, maybe new glass should be the first thing to sort. Twin Falls was an hour's drive and I was beat, having got up at 5:00 to take BART to SFO so I headed to the first motel I saw, a Red Lion, inexpensive but not recommended.
<![if !vml]>
<![endif]>
Up at 5:30, breakfast at McD and the road again; the seller had assured me that the heater
worked sort of but a down jacket, hat, gloves, and lined jeans, plus the heater wide open, kept me going. Turned west at Wells, Nevada onto I-80 and the wide-open road. Alfa purred at 70 all day long with beautiful snow-capped mountains and light traffic. Occasional pit and coffee stops at the few towns along the way. Another coffee, etc. stop at Sparks and it starts to sprinkle; note to perspective Berlina owners; a 1971 model does not have an outside thermometer or cupholder but it does have two-speed wipers, if only the blades had been changed in the last 20 years. Ah, yes there could be trouble ahead, it's only 3:30; keep going! Truckee agricultural station, and it's raining, the state gatekeeper doesn't figure the old heap is harboring out-of-state fruits and vegetables in December and waves me through. I ask, "Is Donner Pass open?" Reply, "so far." It starts snowing, as I gain altitude it really comes down, wipers do their best with not enough heat out of the defroster to melt the accumulating snow, CHP flashing past with lights on; I know they are going to close the pass and check for chains. The Alfa keeps going; if I can get over the summit it's downhill from there. The only problem is it snows for another 3,000 feet of elevation. I turn south on Hwy. 49 at Auburn to spend the night with a friend in Plymouth and an uneventful trip home by noon.  
So the seller was right, the Berlina made the trip with no real problems and the real fun begins
now, sorting a neglected car of all of the things found during the trip. On the windshield, cost would be almost $1,000 from Europe. I guess I'll just drive it during the day for a few years.
Market Report
1969 1750 Berlina. White car with red interior. Originally sold in Quebec, car brought to California in the 70s, owned first by a Griswold mechanic, then 40 years by a vintage racer.  Specification is period European as to carburetion, interior, lights, trim. Has low-back seats, turn signals on the bumper, Webers, single-circuit brakes. Lowered, suspension upgraded in period with TI Super part, GTA headers, 45 Webers, various period upgrades to engine, though not a lot stronger than stock.  Very good overall condition, a few parts of interior showing wear and some paint was old.  No rust, one area of floor had been replaced. $22,500 private sale, Berkeley CA. My car, sold to a friend. Car had a few small things that needed attending to including new front and rear windshield rubbers and some carb tuning.  But it is the most charming Berlina I've ever known. Blinding refrigerator white paint with deep red seats is a winning combo; everyone loves the car.  Price was maybe 20% below market, on purpose. 4/19
1959 Giulietta TI. White car with grey interior, brought to the US by Martin Swig many years ago. Since his death used sparingly by his sons. Stock and excellent condition all over, minimal mileage. Original 1300 engine, column shift, cared for its whole life. $55,000 RMSothebys, Monterey CA. Very few Giulietta sedans come up for sale. This is one of the best in the US and I'd guess the highest price achieved for one.  Very few comparable cars; this is a lot of money but find a better one? 8/19
1969 1750 Berlina. Beige cava car with tan seats (like a 70s Dodge Dart!). Stock all over, good mechanicals, rebuilt engine, new paint, good interior. Nothing really to complain about a strong early European Berlina with the appeal of low-back seats, carbs, early minimal trim, a frisky driving feel much like a Giulia Super. $14,500, BringaTrailer Sicily.  A stone bargain on the blandest Berlina imaginable if you were in Europe or had the means to get it to the US for a reasonable amount. I'd call this half price judging from the BaT ad.  Alas, BaT caters largely to the US market and cars located elsewhere can put potential buyers, including me, off with the complexity, uncertainty, and cost of importing.  Still, for the right person living The Beige Life a super deal. 9/19
1972 US 2000 Berlina. Olive metallic car with tan interior.  Interesting beater-drive Berlina with Bosch Spider engine and injection.  Owned by a couple Berlina nuts, improved mechanically but cosmetics poor. Paint flat, crushed velour(!) seats, marker lights from a trailer, various home mods to the interior. Underside crusty everywhere though no obvious rust-throughs. 1750 grille and headlights, Bosch Spider wheels. Steering box broken. $3301 ebay, Cleveland.  After you replace the steering box (not a fun project) as a use-it-as-is fun driver sure, why not? Bosch Spider engine have great low-down torque so you can really squirt around in this thing.  The car has issues and non-standard stuff in every department, so you'd never stop changing or fixing stuff if you brought it back to stock. So accept it for what it is and enjoy it. If you had the means to change the steering box, a remarkably low price for the earliest US 2000 Berlina I know of. 10/19
1972 Giulia 1300 Super. Light grey with red seats. Recently brought to US from Italy, fully painted before shipping. Nice appearance but much waviness in the body.  Mostly stock mechanically with Panasport wheels, sport springs, one muffler instead of three, dust-ingesting air horns.  Additional red/green stripes on body and engine. Bumpers removed but included. Interior original, basically fine but showing wear. $18,000 BringaTrailer, Phoenix.  A Giulia sedan just painted and sent over from Italy with wavy body panels is a warning in itself.  The seller was another warning, listing the car as a Giulia Super with a 2000 engine. Turned out the car was a Giulia 1300 Super with its original 1300; not the same thing.  BaT listing had maybe 20 pictures, slim by today's standards. Still, this is a strong price for what to me is a pretty sketchy car and seller. I'd worry about rust and bondo eruptions soon. BaT continues not to be able to tell one Giulia from another.  10/19
1967 Giulia 1300 TI. Pino Verde with tan skai interior.  Largely stock and appeared to be in excellent cosmetic and mechanical condition. Lowered a bit in front, replica GTA wheels with big CN36 Pirellis; it probably promised more performance than it delivered. Still, an all-together nicely preserved and presented 1300 TI. $22,00 BringaTrailer, Netherlands.  If you're going to buy an Alfa overseas, you can't beat the Netherlands. Active club, conscientious owners, many cars to choose from, MoT laws that require the car be kept in good shape, unlike most US states. Fair price, seems like market or a tad cheap for such a solid car with nice wheels and tires. I'd raise the front back to level; rake doesn't suit 105 Alfas. A very minor point. Add $5000 for transportation if it was a US buyer. 12/19
1967 Giulia Super. Good solid green/tan US-market car, been through various devoted owners in the last 10 years. Essentially stock, when it lived in Utah had a vintage AC system installed, since removed. Body and interior all look good, missing rocker spears, not sure what that portends. $25,000 Hemmings, Holliston CT.  This car is a week older than my very similar Super, an utterly typical US car from early 1967. I never saw it in the flesh but knew it through various owners.  Looked to be in great condition, AC was included but uninstalled.  I'd call this a good deal by some thousands, especially from a dealer. 12/19
1969 Giulia Super. White car with black interior. Bodily stock, had a 2000 engine and high-back Berlina seats installed. Appeared to be largely original with reported front fender repair and repaint.  Dash had a nav screen built into it and added badges. "Oscar" style driving lights added to front bumper. $20,000 BringaTrailer, Rome.  A solid, normal looking Super pepped up with a good amount more power. Car appeared to be quite solid and honest. The changes to the dash generated a fair amount of criticism; hard to undo.  Price is relatively a bargain, but cars outside the US on BaT often are. 12/19
1971 US 1750 Berlina. Grey car with tan interior.  Originally long-time California car, given by Alfa to a GTA racer, sold to Idaho some years ago and mainly sat in the garage.  Carburetors swapped for Spica. Some issues to paint, two fenders have significant peeling. Works reasonably well for a car that has sat a long time, heater and fan inop. $10,000 AlfaBB, Sun Valley ID.  Most desirable variant of US Berlinas. This one was attractive in some ways, but the paint was such that you'd need to redo it. By the time you're done you could have bought a car for the same money that didn't need paint.  So not exactly overpriced but on that side of the ledger. 12/19
1969 US 1750 Berlina. Blue with red interior.  A clean, mean hotrod in the style of a lot of Giulia sedans of late. 2000 engine with carbs, very low, bumpers uncluttered, 15" GTA replica wheels with wide tires. Looked purposeful and mean.  Clean body, nice interior. Car was originally white/red, a rare combo in the US.  Spazio blue was never offered in the US but is a good color. Some bubbling in the paint, typical but not that bad. $23,500 BringaTrailer, Kentucky. Not everyone wants a boy-racer Berlina, but this was a pretty good one.  Set up like an LA hotrod Super, car was very menacing. Paint issues not bad, but bubbling is not going to get better. Interior was stunning in red. Probably a fast fun car, you'd have the only one like it around. A lot of money for a non-stock Berlina but I'd say worth it if it drives well. 12/19
1969 Giulia Super. Verde muschio with tan interior. A very clean, apparently low-mile Italian market Biscione brought to the US in 2014. Repainted nicely, interior appeared to be the original Alfa pigskin, extremely clean. Stock mechanicals, suspension rebuilt, Vredestein tires, Dellorto carbs. Refreshing car in totally stock condition, not hotrodded or modified. $32,500 BringaTrailer, Swampscott MA. Nice looking car, maybe not enough underside pics on BaT to give full confidence, but there was not much to doubt in the listing. Market price, everyone should be happy, particularly the new owner. 1/20
1966 Giulia TI.  Rolling shell, verde muschio, tan interior, of which there is no evidence. Nothing really other than shell, doors, trunk and hood, and suspension and steering. Had been kicked around among various owners, pieces removed and not replaced. Not terribly rusty but you wouldn't call it nice either. Rear fenders and doors had been flared slightly. $1300 BringaTrailer, Portland OR. Buyer is an Alfaholic who intends to put it back on the road. A big project but not a bad starting point. There are a lot, as in a lot, of pieces to find. If the buyer has most of that, great. If not he's in for a treasure hunt. Fair enough price, basically nominal. 2/20