Berlina Register Newsletter No. 41 (October 2016)
Notes and Comment
Welcome. Iíve felt uninspired of late, busy with work (and my new workplace in my basement) and taking care of my dad, the worldís oldest fighter pilot. So I havenít gotten to newsletters and drives as I should. My Giulietta Spider Normale is done (and sold), Iím getting deep into my Mk 1A Sunbeam Tiger. Engine and brakes are done, trans and diff pre-rebuilt, sorting body, paint soon. Ran the 260 V8 on a test stand, OMG compared to an Alfa engine. My Super just got a new exhaust, old one was holed in two spots. †While on the lift for exhaust welding, saw the brake master is leaking, so thatís next. I looked at the Plex distributor for the first time this decade, changed the corroded cap and rotor, works much better! I sold the race Super, just wasnít feeling like racing any longer. It went to a good home, body work is already done, bought by an Australian who will keep it in LA for California events (see below). Couldnít be better. Donít worry, with the arrival of a Berlina I still have five Alfas, probably more over the horizon.
<![if !vml]>
<![endif]>
The keeper of the Berlina Register, North American Giulia Sedan Register, and Giulietta Sedan Register is Andrew Watry, email watry@prodigy.net.† Send corrections to your information or any other Giulia- and Berlina-related facts, rumors, tips, or needs.† Always seeking articles for the newsletter.† The keeper of the international Giulia Sedan Register is Barry Edmunds in Australia, email Giulia105@optusnet.com.au
Facts of Life for a Giulia or Berlina Owner
Iíve owned a Giulia sedan, a Berlina, or a combination (sometimes several at once) since 1977. I thought Iíd put down here a few things you ought to know and consider before owning a Giulia sedan or Berlina. If you already own one, youíve had this, and probably more, happen to you already. Send me your anecdotes!
Can you handle the attention? Especially with a Giulia sedan, people will come up and talk to you about the car. You may or may not be an interesting person, but now you own an interesting car, so get ready for life in the limelight.

Comments will come in all varieties. Iíve had all kinds of things said to me, from simple ďnice carĒ comments, to constant questions about what year it is, what kind of car it is, how much itís worth, etc. In the old days (1970s) folks thought they were ugly and would say so; now they think the opposite. My favorites: (1) a tiny old church lady in Missouri said about the acqua di fonte 1300 TI that I was driving to California: ďIt look like a toy carĒ; (2) a couple of fly Berkeley High girls, as I drove my Super out of a parking garage across the street from the school: ďThatís one cute-ass car!Ē Can you beat that? Women especially respond to Giulias; no idea why.

†

Italian men who grew up there in the 60s and 70s will tell you their treasured family-Alfa stories; watch for genuine tears.

People will take pictures of it, sometimes posing in front of it. And sometimes asking to sit in it. Be nice; think of the car as a shared public treasure like the Statue of Liberty.

Folks will want to know where to buy one, and/or is this one for sale. Invariably they will offer/guess low on the value.

For you Berlina owners, get ready to have the car mistaken for a Volvo 144, Datsun 510, Renault, Peugeot, Fiat, BMW, Toyopet, Lada, anything from the 60s thatís square. Enjoy the attention, start a fun conversation.

Know that in a Giulia Super you can get away with murder. Park it anywhere, on the curb, in the street, in a disabled spot, in the commanding generalís parking space; odds are youíll strike up a conversation with the nice officer and get away with an apology rather than a ticket. My favorite: I was giving a Giulia owner and his daughter a tour around Berkeley including the UC campus, and we inadvertently drove onto Sproul Plaza, the center of campus and not intended for cars. Everyone loved it, took pics, presumed the car was there for some official purpose or a film shoot.

Folks on the freeway will take pictures and videos of you; M3 and Miata drivers will dive-bomb, then give you a thumbs-ups. This didnít happen in the pre-internet era so much because no one knew what these cars were. Now every car nut knows; blame BringaTrailer, Jalopnik, Petrolicious, Top Gear for letting our little secret out.
Film Star
Lido Cantarutti has hosted the San Francisco Italian Film Festival for 40 years. This year at the Marin Civic one of the featured movies was ďNoi e la Giulia,Ē a 2015 Italian comedy by Edoardo Leo featuring a Giulia sedan as a central character. As it happens, the organizerís son works around the corner from Conrad Stevensonís shop, where I spend a fair amount of time. He stopped in to beat the bushes for Giulia folks to bring cars to the event. So Conrad took his white Colli wagon and I took my green Giulia Super (same color as the car in the movie though it was a 1300 TI) and parked them at the entrance on public property (drip tray under each). I even washed and vacuumed my car. Folks loved it, the event was packed, and many attendees were native Italians who recall Giulias in period in the old country. Everyone had a story and wanted to hear about the cars. The movie was good, but hanging out and talking to folks was even better.
<![if !vml]>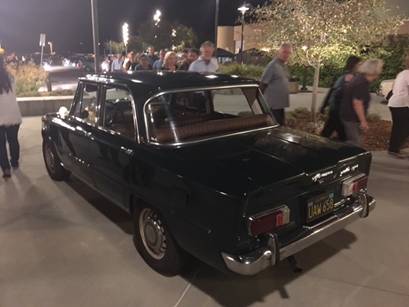 <![endif]>
Bouncing Rubber Baby Buggy Bumper Berlina Arrives
I sold my last Berlina in 2012, figured two Giulia Supers would fill my sedan needs. I always have my eyes open, but I was not actively seeking a Berlina. I had two Mercedes sedans in the past year, worked through them, enjoyed them, sold them and lost money!† So, a couple weeks ago, a Berlina found me. I heard about this car from three different people over one weekend, in a tow yard in East Oakland. One guy urged that I was ďjust the guyĒ for the car. Well, OK.
Called the tow guy, went to look. A 1974 blue/tan rubber-bumper car. Nice enough for a car in a tow yard, had been in a garage in Alameda close to 20 years. Alleged valve job, claimed fuel system issues were keeping it from running.† Seems to have been traded to the tow guy to cover a debt. I looked it over, all there, dusty, flat tires, jammed between other cars, kind of sad. Said thanks Iíd think about it. Went back the next week for a better look, pushed it out in the light. One small rust spot, but straight all over, and other than a repaint, quite original, and appeared to have been taken care of when in use. Rebuilt engine from an Alfetta (a friend whoíd owned it chimed in on the Alfa BB). BWA wheels, Sachs shocks. Full Weber setup in the trunk, plus extra parts. He said his price, I said mine, we were too far apart, I said thanks and went home. He called me a few days later, said a number closer to mine than his, I said OK. I even got him to tow it to my house.
The big day arrived, rolled it off the truck and into my drive. Various other projects kept me from it for a few days, but once I had time, first worked through the fuel system.† Tank appeared to be recently replaced; it was totally clean. Fuel delivery pump worked, and car had two new filters. And a rebuilt Ingram Spica pump and new actuator. So I replaced the hoses, tested a bit at a time, checking for nasties and rust in the fuel, found none. Put it all together and turned the key. Fired and ran on the first try.† Some fiddling around, installed an electronic distributor, and it runs like a champ. Removed the most complex cold-start-defeat system Iíve encountered (included a Ford starter solenoid on the inner fender), cleaned up the wiring, took it for a drive. Clutch hydraulics were very stiff, brakes not bad. Put a few miles on it before I hurt something, brought it home.
<![if !vml]>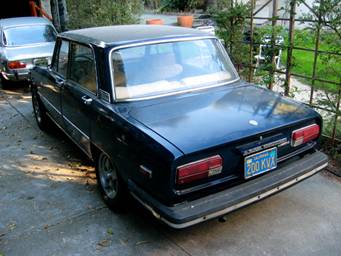 <![endif]>
DMV confirmed (before purchase) that is was registered non-op, so registration on its original blue plates was a doddle.† Pulled the nasty sheepskins off the front seats to reveal perfectly nice reupholstery. Removed the rear cover to find a typically worn rear seat, but it sure beats 1950s-couch upholstery (see below). Believe me, I now know all about removing hog-ring clips, and have the blisters to prove it. Replaced the clutch master and slave cylinders and the brake master cylinder and bled both; both pedals feel good. Car is registered and insured, but trapped in my driveway by an immobile project, so Iím frustrated, not able to drive just yet. Soon.
<![if !vml]>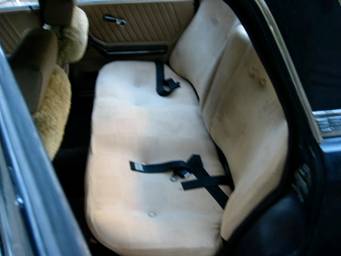 <![endif]>
So for once a Berlina found me rather than the other way around. Itís the rare car thatís better than on first look. Generally, the closer you look the worse an old car is, but this one seems to be an exception.
Berlina/Giulia Market Report

1972 US 2000 Berlina. A maroon/tan Berlina, kind of a frequent flyer on ebay. Painted but not restored, presented as a running project. Much remains to be done, wires hanging out and interior incomplete. Basically functional, but a long way from daily use, much less a nice car. $4200 ebay (49 bids!), Flanders NJ. This car was a past local hero in the Northwest, formerly known as ďMoxie,Ē for years a competent, cheerful rough ní ready rally car, all-around goodtime Berlina. Then had two-tone paint, sloppy interior, but it got used and enjoyed. Went through various hands, slipping into disuse. Now, has a cheap repaint, much work to finish exterior and interior trim. Ebay listing was poor, hard to judge quality and no pics of undersides, the key consideration. If not rusty, price is fair. 1/16
1967 Giulia Super. High-level driver Super, white/tan car, largely stock appearance with performance upgrades. 2000 engine and trans rebuilt by expert, LD differential, Rugh springs and sway bars. Interior and paint done years ago but little use since, so holding up. $25,000 private sale, Richmond CA. A car that has changed hands 4-5 times in the Bay Area in the last 20 years, built to a high driver level, then not used much. Bought back by a previous owner who was sorry heíd ever sold it. Price is on the money for a quality driver. 2/16
1974 US 2000 Berlina. Silver car with black interior, rubber bumpers, Spica injection, US fittings. Looked very nice in relatively limited ebay posting. Claimed to be imported from Italy, which wouldnít make sense for a US-market car, so who knows. Underside painted black, so work had been done, but it all looked good. $25,000 ebay, Toronto. Rubber-bumper Berlinas are generally the least coveted, but this was a very solid looking car, even if the info presented was thin, and didnít all make sense. 32 bids. If a real sale, very strong price for a 74 Berlin in post-recession times. 4/16
1969 US 1750 Berlina. Beige cava car with tan interior. Was restored to virtual perfection 10+ years ago in California from a solid driver, and is probably one of the best 1750s in the US. Paint, interior, mechanicals all top-notch, stock condition, no complaints. $14,000 private sale, Portland OR. Seller had too many Alfas, wanted to clean out some, sold to a friend at a friendly price. Wanted to recoup what he spent, not realize a profit. Fair enough. Very friendly price, Iíd say about half market price. Hard to imagine a nicer Berlina. 6/16
1971 Giulia Super. Green with tan ďinterior.Ē Street legal race car, developed by two owners over 10 years for vintage racing. Good solid mechanical specification with hottish 1600, Norman head, heads, HC pistons, Carillo rods, oil cooler, headers, fuel cell, etc. †Suspension had IAP spring and Konis, not radical. Body on the high end of poor, some rust, some dents; itís a race car. Interior† stripped except for dash and door panels; race seats, harnesses, full cage. $12,500 private sale, Berkeley CA. My race car, decided Iím done with racing. Functioned very well, didnít look so great. Price for a race car is what you can get. Buyer took it into the body shop and spent thousands on paint and rust repair; heíll have maybe $20K in it by the time heís done. I paid $10,000 for it six years ago, hoped for a bit more (this is way less than I have in it), but thatís life. This car is unusual in that itís honest-to-god street legal, registered with current plates.† I thought that might bring out the rally and event folks, but no. 6/16
1970 1750 Berlina. Blue/tan car, basically complete but has not run in years, has chunks of paint missing, etc. Unusually decent interior, but minimal description that made light of its rusty areas. Not a lot to go on. $3850 ebay, NJ. Price seemed fair, perhaps on the cheap side, if the underside was not a major restoration project. Any Berlina under $5000 nowadays is cheap. Sure would like to have known more from the listing. 7/16
1974 US 2000 Berlina. Blue/tan rubber-bumper car. Complete, overall solid condition, some issues from sitting 20 years. Cheap repaint showing its age, very minor rust, worn rear seat. BWA mag wheels, Sachs shocks, rebuilt engine, Ingram injection. Non-running but promising. $3500 private sale, Oakland. Bought non-running, proved to be a decent runner with very little work. Very few decent project Berlinas have come up of late, this is the first Iíve seen locally in a couple years. Price seems like market price. Car proved better than expected, but did take some work to get on the road. No one is a fan of the rubber bumpers. 9/16
1970 1750 Berlina. Cream/black car, originally white. A poor-cosmetics driver with good mechanicals. Carbed 2000 engine with Euro cams, lowered suspension, 4.3 gearing for long legs. German-market car came to the US in the 70s, repainted and modified for timetrials, used, abused, enjoyed. Body looks OK, but there is plenty of bondo etc under the paint. Interior decent if old; low-back seats are cool.† Car has been in the Northwest recently, so its Euro-rust is returning with a vengeance. Rough but fun. $4800 craigslist, Bellingham WA. I knew and maintained this car 10 years ago when a friend owned it. Very fast and fun; memorable drive from San Diego to Berkeley at 85 MPH. Body not for everyone, you can tell itís had work done, and rust is blooming at the edges. Fair price for all considered. Buyer tried for more $$ for some time, but this is about right. 10/16